Modern in Denver magazine holds a special place in my heart. I still credit my decision to move to Denver at least partially to the experience of flipping through one of the very first issues of this minimalist, gorgeous publication at the Tattered Cover. Every page is impeccable, the content is inspired, and even the advertisements are designed beautifully. Seriously -- how often do you stop to read the ads in a magazine? Well in this publication, and this one alone, I honestly do.
Back when I was shooting primarily architectural photography....
.... and I was still new in Denver, I stepped out on a limb and contacted the editor, William Logan, to see if there was any possibility for me to collaborate. A relationship was founded, and I am thrilled to have contributed to multiple issues over the years, from an early Instagram feature (I've been addicted to Instagram since 2011 -- way before it was the phenomenon it is today!), several editorial architectural pieces (including the amazing Gravitas shipping container project on Larimer and 24th). I've photographed interesting people from the curator of the Denver Art Museum to an urban rooftop beekeeper in downtown Denver.
It was an incredible honor to be asked to contribute to the magazine's featured Photo Essay, where I experimented with hand-created filters to lengthen daytime exposure times and create colorful "urban landscape" photos featuring movement as a way of painting with the moving light of the city.
Check out the final spread below: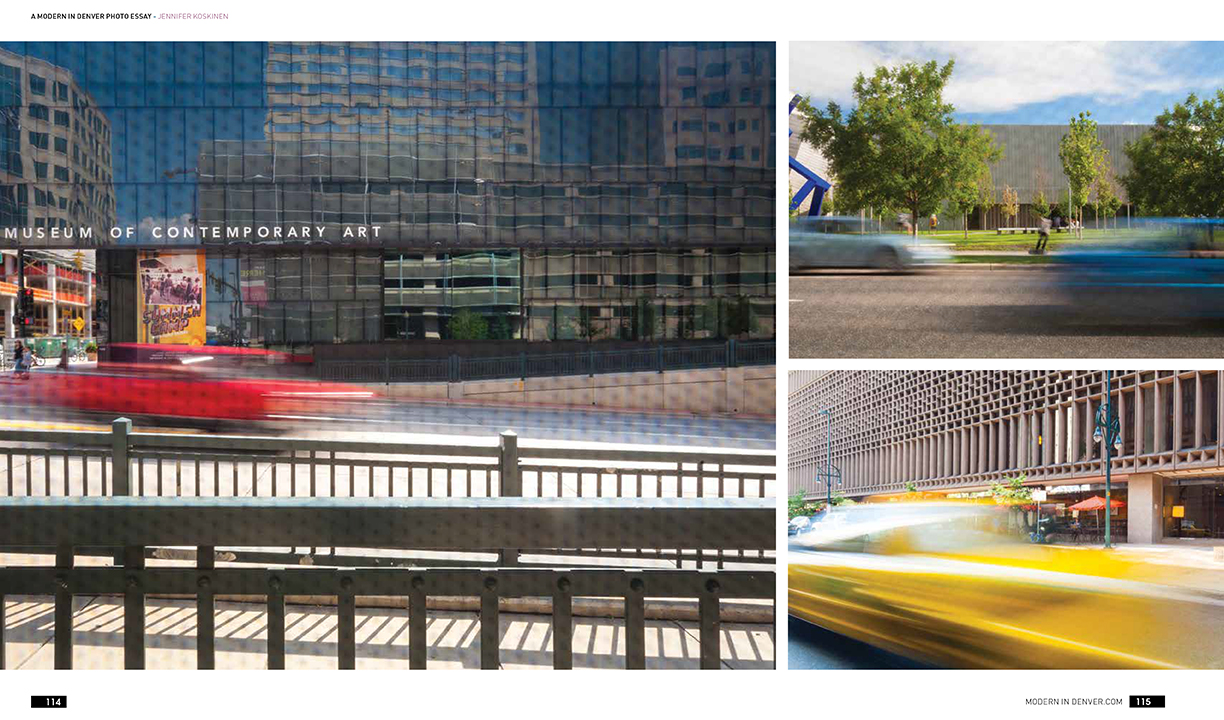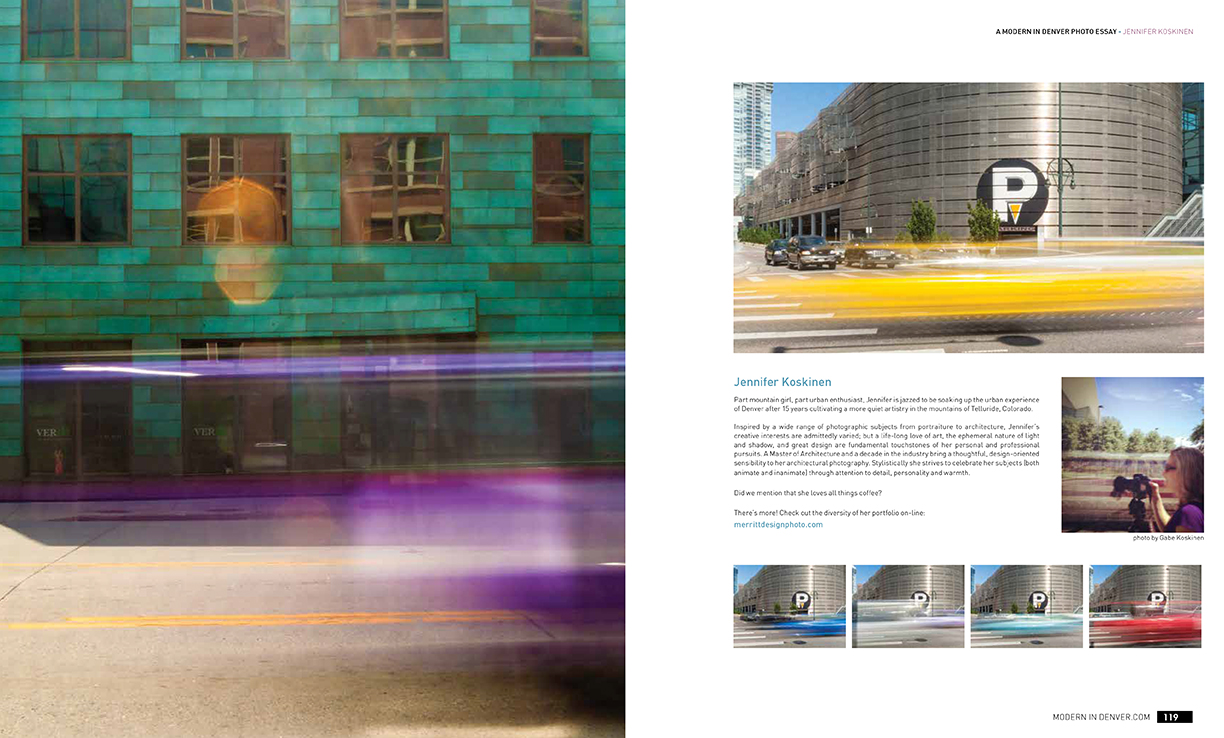 Our latest collaboration....
.... is this designer mugshot series (who doesn't love a fun pun-inspired photo essay, am I right?) It was a blast working with these talented creatives in the Denver area to create this fun editorial portrait project. I particularly enjoyed getting people to pose for such a playful and different kind of portrait. The "outtake" series at the end still cracks me up!
Enjoy… and be sure to pick up a copy of Modern in Denver and see for yourself why this is such a unique contribution to the Denver design community!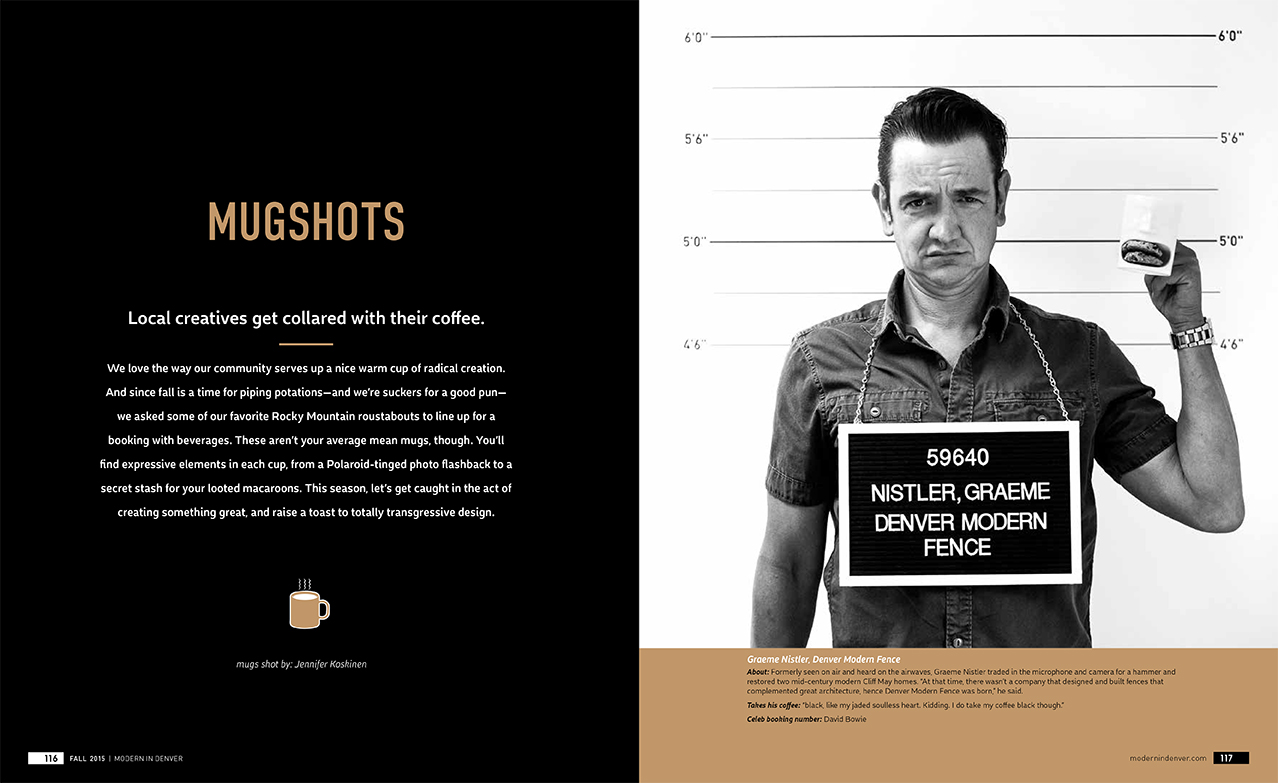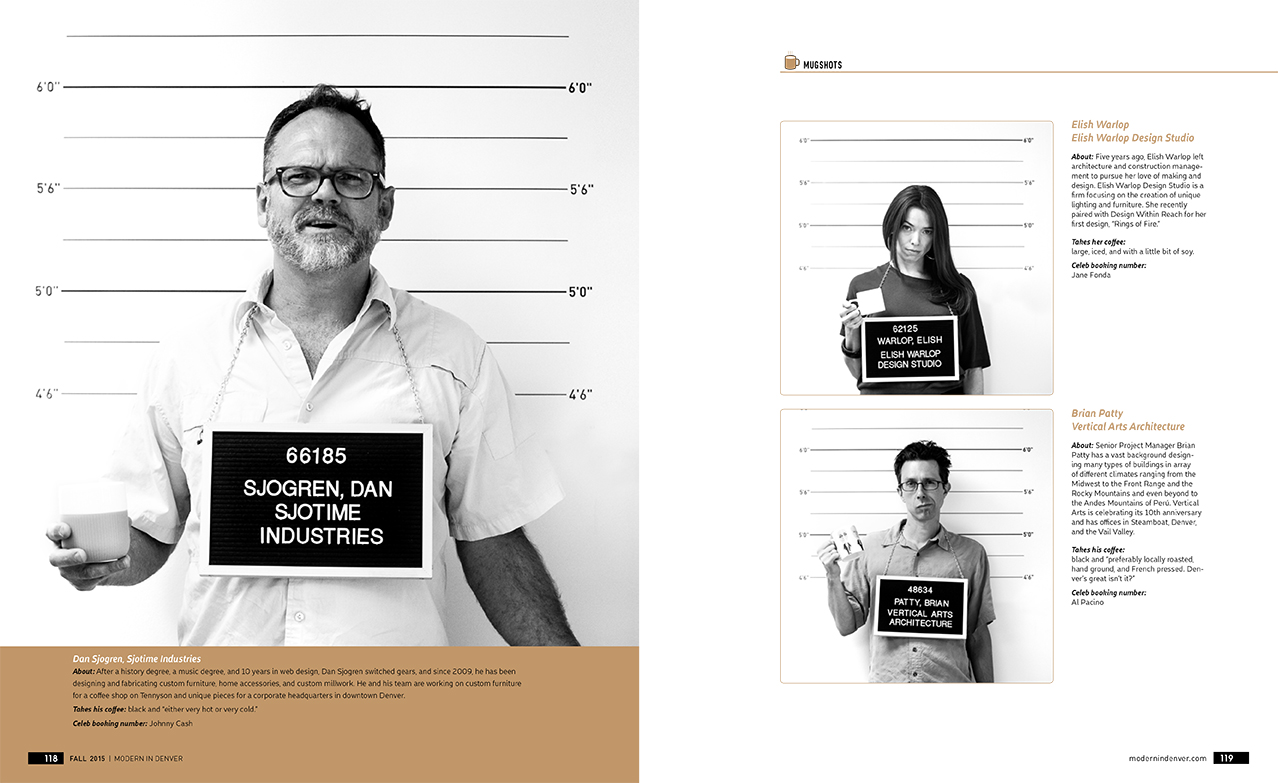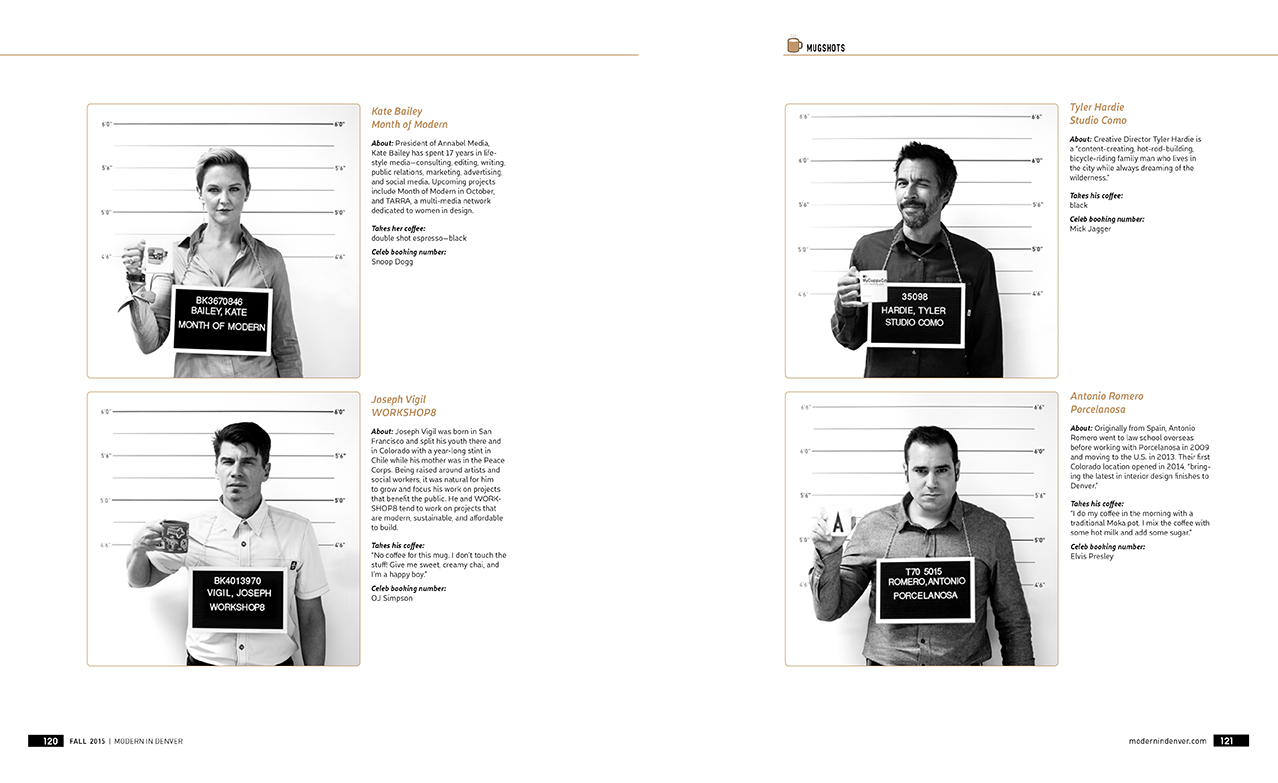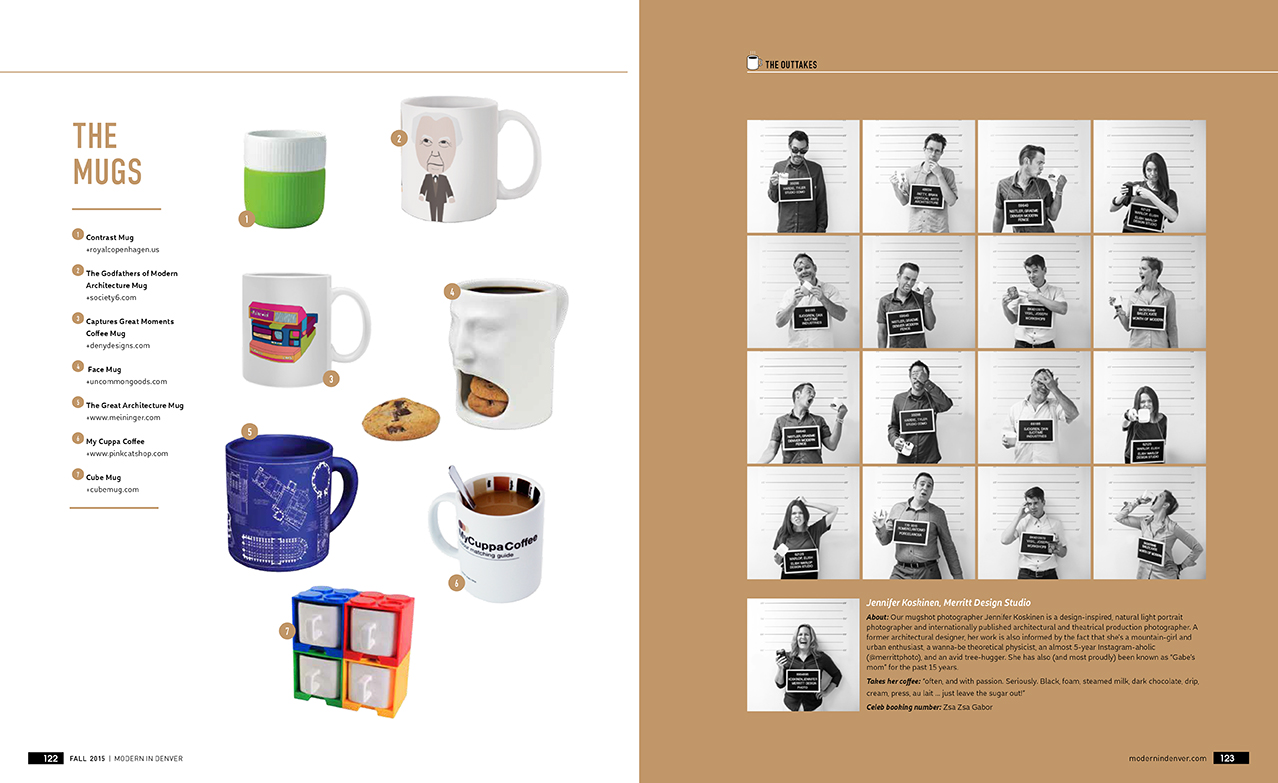 I'll leave you with a final "selfie" of sorts from my photo essay project. This shot is actually a multiple exposure shot of me (center) and my son (the salmon colored shirt). He helped with my long exposure series, and we decided to get one last series of photos of ourselves in the mix on the 16th street mall. I still get a kick out of this experiment!