How could I not love photographing this fiercely fun and amazing human? This session, my 4th with Sarah, was creatively inspiring as an "after senior pictures, I'm heading to college!" session.
People who follow my work may recognize Sarah from prior sessions, dating back to her sophomore year, in one of my early sessions in my first studio.
Her senior pictures last summer were an absolute blast (and have become some of my most popular Pinterest pins).
(left, top row)
And of course, she modeled for our unforgettable styled corset session for Redthreaded just last December.
(left, bottom row)
So this time, we decided to celebrate her heading off to college in LA with one more session, this time a "little black dress" fashion shoot in historic downtown Denver. And we had a great time wandering our mini urban corridor!
Contrast in photos is one of my favorite elements with which to play. Light and dark, old and new, order and chaos. And in this session, the striking contrast of her femininity, fashion style and graceful strength set against the gritty urban backdrop of 17th street in downtown Denver.
I also thoroughly enjoy the contrast of her fierce, stunningly beautiful model face, and the cracking up that ensues when I get overly enthusiastic and accidentally make her laugh. And then how she can snap back into model mode in a fraction of a second. We always have a blast shooting for hours and this time was no exception!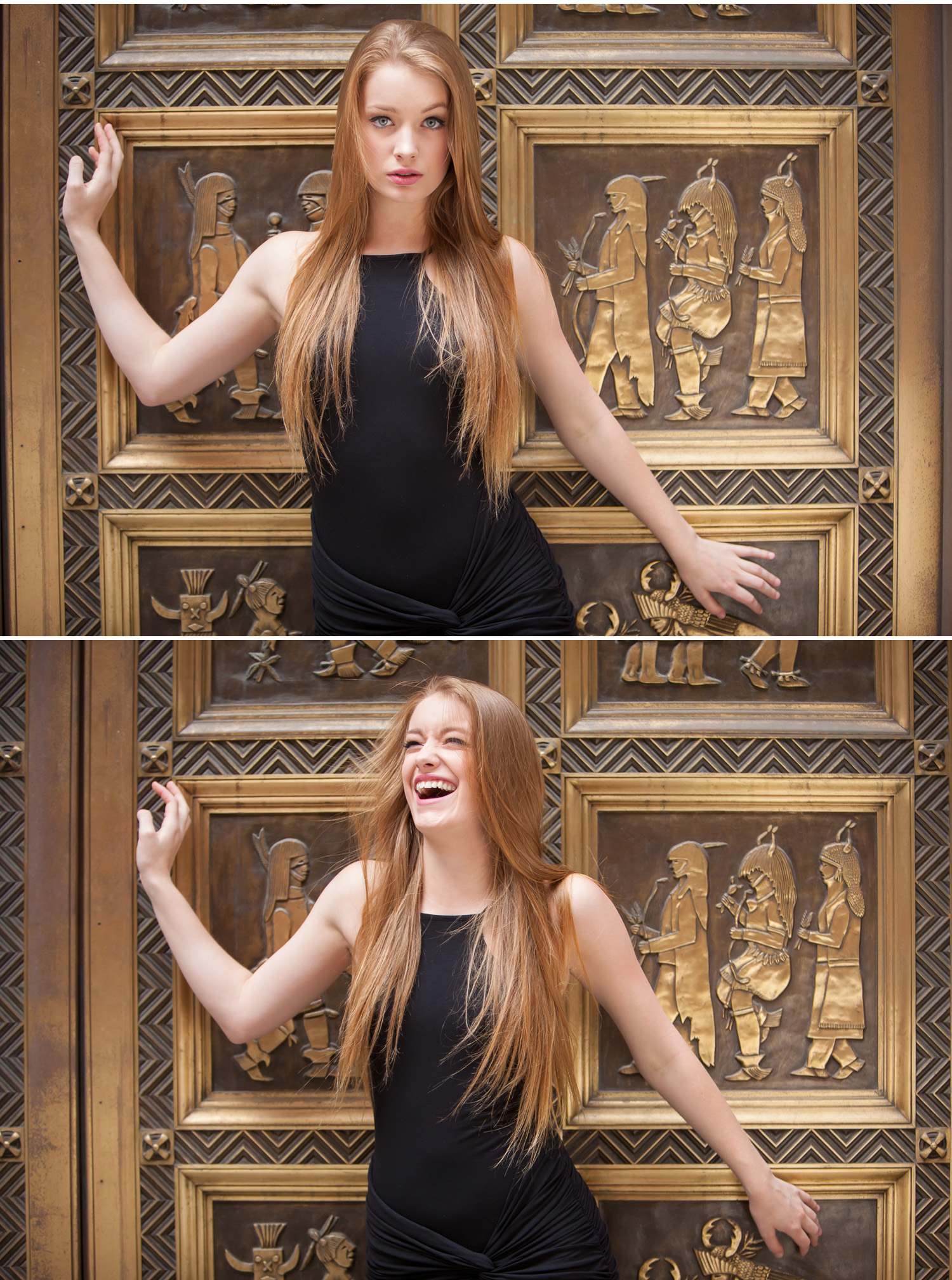 17th street in Denver captured my attention when I first moved here and it turns out, Sarah has loved it since she was a kid as well. The scale of the structures on this street makes Denver feel bigger than other streets. And at the same time it feels "cozy," being flanked by architecture framing at both ends. Something about my background as an architect makes me appreciate this kind of urban setting for portraiture and fashion style photography.
Constantly changing, vibrant and always in motion, the textures and light of the city keep me on my toes as a photographer, always looking for something I haven't yet seen. The environmental unknowns also elicit genuine reactions in my clients, allowing me to keep sessions fresh and fun, always. Not that the fun part is ever a challenge… Our little black dress session was, as is every opportunity to photograph (and spend time with) Sarah, creatively inspiring and an absolute blast!
Sarah… girl, I've watched you work your tail off, push the boundaries of your incredible potential, claim absolute ownership of your explosive talent, push yourself like crazy in the direction of your dreams and still maintain an awesome, quirky and FUN personality.
I'm so happy we got to fit this "little black dress" session in before you headed off to your next exciting chapter… and as always, I am already looking forward to our next creative endeavor!
Watch out Los Angeles (and world)! This girl is GOING PLACES!
SENIOR PICTURES and NEW GRADUATE portrait sessions are booking QUICKLY for summer and fall! Email now if you'd like to learn more... here's a link:
ABOUT THE PHOTOGRAPHER: I'm a fun-loving Denver high school senior portrait photographer specializing in bringing out connection, personality in the eyes of my clients. I strive to do more than just take senior pictures for yearbook, instead my focus is on storytelling with pictures. Together we'll collaborate to design an immersive and empowering portrait experience, custom tailored around the personality, style and interests of each awesome senior -- hopefully YOU. Let's grab a coffee and chat about designing an amazing high school senior photo shoot for you!