Ok, yes, so this one is special…
This is, after all: Family.
My son and I were lucky to have a wonderful visit with my sister's family for a few days in Aspen Colorado this past summer. While we were there, since her daughters are a rather multi-talented bunch and needed refreshed headshots for talent and commercial use, we had an impromptu session before dinner one night. And of course, we made sure to grab a few casual family photos as well!
Actor, model and talent headshots, especially when your subjects are this stinking cute, are about so much more than just pictures -- ideally, I'm striving to capture personality in a still frame. That's no small task, and so my biggest work is to get people to forget they are in front of a camera at all. As a result, the sessions become quite entertaining, even for me behind my camera. I work hard with clients to get them to relax -- sometimes knowing them helps, sometimes it presents a different kind of challenge.
But in this case, this session didn't ever feel like "work," in that respect. First of all, this was quite casual -- really it had all the formality of "let's take some photos before dinner." We were in the mountains of Aspen, Colorado after all, and my awesome assistant (who happens to be my son) was with me, so, why not? And yes, the agenda was officially to get headshots to update with actor/talent agencies, but we were all on vacation, so it was also about having FUN and hopefully getting a few images for the walls!
And we sure did get some beautiful images of these beautiful young humans...
Since I do know these amazing girls personally, I'm always excited for the opportunity to even attempt to capture each of their OVERFLOWING personalities. Seriously. Always. You should see my cell phone camera roll after a few days with them. And it's extra fun to pull out the "real camera" for a session.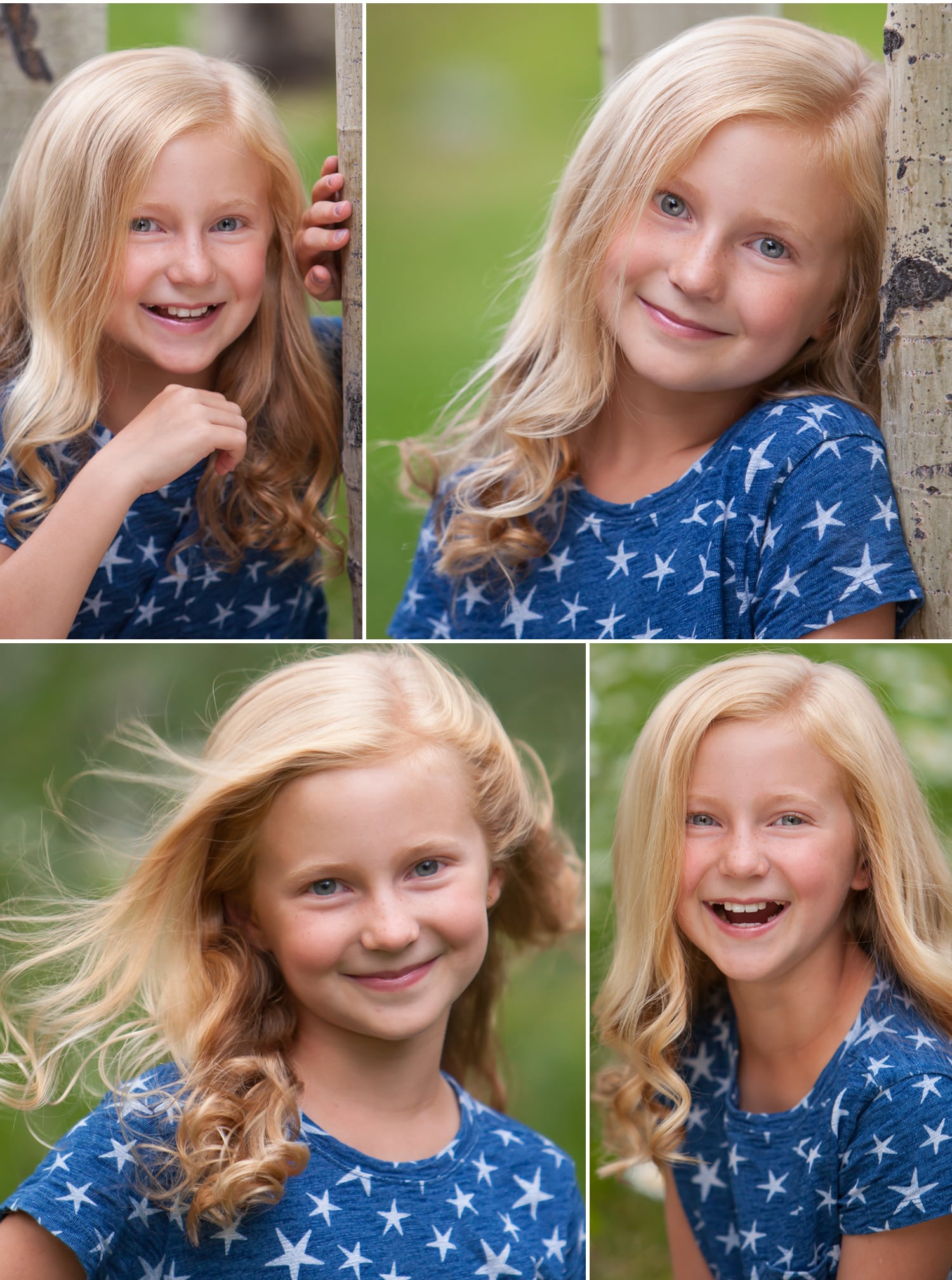 These young ladies are incredible -- each so unique from her sisters, but at the same time so clearly family. They are each blessed with extraordinary talent (already evident even so young!), copious amounts of charm, intelligence… and each of these amazing girls possesses her very own brand of stellar wit and inner joy. They are some pretty cool kids. We feel awfully lucky to call them family!
OK so let's be honest: my job here was not hard; they are freaking adorable. Those last two frames above... those were her response to my asking her what she wanted to be when she grew up.
Her answer, "FAMOUS!"
And then she heartily cracked herself up.
And here they are with their gorgeous mama... that's a whole lot of beautiful in one photo!
Love you guys!!
I'm a Denver based child actor headshot photographer specializing in bringing out connection, personality in my clients' photos by giving them a highly personalized photo session experience. I would love to chat with you about your headshot and family portrait needs!