I don't typically create blog posts about photographing individual stage productions.
I've already written at length about how much I love photographing live theatre, and you'd be bored by now if I waxed poetic about how VERY much I love it after every show. There's a whole world of arts critics and journalists whose job it is to write about the performances themselves -- the production quality, acting, direction, design, etc.
But really, everyone who knows me is aware that I'm -- how shall I say? -- easy to entertain and genuinely quick to love, so my effusive praise of a particular show, heart-felt as it may be, admittedly probably doesn't carry a lot of weight.
All that being said... I was so moved by the aesthetic experience and technical challenges of photographing this particular production of this lesser known Shakespearean play that I felt inspired to share a few "photographer perspective" thoughts (and photos) from this production; this extraordinarily beautiful, intriguing and -- at least judging by this particular iteration -- perhaps too little produced play.
My first experience photographing Carolyn Howarth's work was last season at Colorado Shakespeare Festival, when she directed HENRY V on the indoor stage at the University Theatre. Everything about that production was spectacular -- for me as a photographer AND to experience without a camera (and I say this having attended several times throughout the run, including closing night when I almost cried because I still wanted to go see it again… but I digress… )
Photographing a director's work multiple times gives me a chance to learn how to "dance" with a director's blocking. It allows me to move through space in anticipation of where actors will be to create the best photographic compositions. Carolyn's work was so beautifully staged for Henry that I was giddy to see what she would do with the outdoor Mary Rippon stage on the campus of University of Colorado, Boulder.
And let me tell you… this entire team of designers spectacularly delivered on a vision which somehow was at once both distopic and stunningly, viscerally beautiful.
The opening scene of TROILUS AND CRESSIDA immediately thrusts the audience into a visual (and acoustic) landscape of overwhelmingly powerful beauty. Symmetry of design, of stage direction and blocking, of light, and even somehow of sound -- which is difficult to capture in a photo, but somehow, it was so powerful that I actually hear the beating of Benaiah Anderson's incredibly crafted swords and shields when I see the opening photos.
Howarth's stage aesthetic is simply divine. Her blocking of the actors -- how they move through and inhabit different parts of the outdoor stage -- so perfectly complements the depth of the incredible set design, the colors of the wardrobe, and the dramatic and compelling lighting design, that even for those who may not follow every twist of Shakespeare's story, there is always something beautiful, sexy and dramatic to absorb for eyes and ears.
How the wardrobe -- the colors of the designs of each scene as a whole worked so that everyone on stage at a given time complemented each other as an ensemble... I mean, just look at the palette of costumes and how they work together in this scene (the last set of photos above). It nearly took my breath away, even where the colors on each actor stood on the stage!
And yes, it IS my job while shooting a production to become almost "lost" in the visual. To celebrate the composition, color and light… but it is also my goal to capture the connection I see in actor's eyes, with each other and to their character. The most satisfying productions to photograph are those which provide all of these things in concert with each other. When that happens, my job honestly feels like playing...
...until the light design becomes so brilliantly in line with the story that it envelopes the audience in near darkness as the stage fighting intensifies... and the photographer who wants to capture it all freaks out.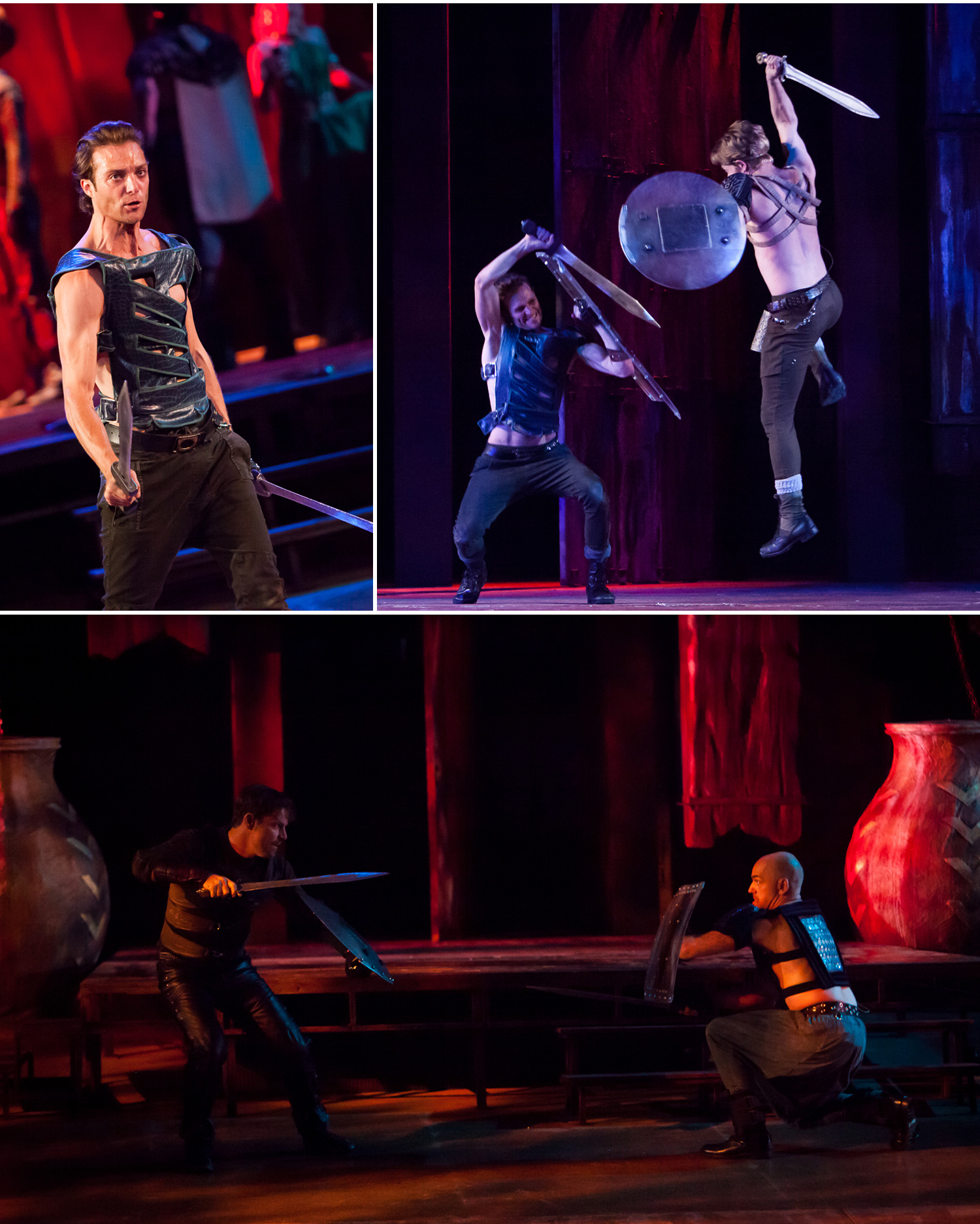 Luckily I had scouted this show the night before, so I knew this was coming, but still -- to capture the combination of extreme low light and extreme fast motion -- it pushes even the best photographer and equipment to the limits of what is possible. Even with a super high ISO and the widest aperture my lens could shoot, this is still a nearly impossible combination to capture, but I pushed myself and my equipment, tried a few new things and was actually able to capture more than I thought would be possible. Though I must say still… you really need to SEE these scenes to get a sense of how incredible they are. Geoffrey Kent's stage fight choreography and his movement onstage during these scenes is jaw-droppingly good.
I'll add a few more photos of ending scenes AFTER the show closes so as not to give away any dramatic and incredibly aesthetically powerful spoilers...
The artful storytelling of this lesser known Shakespearean work, which contains both comedy and tragedy, in the hands of these incredibly talented actors is not to be missed!
CREDITS:
Direction by Carolyn Howarth | Scenic Design: Caitlin Ayer | Lighting Design: Shannon McKinney | Costume Design: Hugh Hanson | Sound Design: Jason Ducat | Fight Director: Geoffrey Kent | Photos: Jennifer Koskinen + Gabriel Koskinen for Merritt Portrait Studio
CAST: Christopher Joel Onken, Howard Swain, Lilli Hokama, Carolyn Holding, Naomy Ambroise, Kristofer Buxton, Kelsey Didion, Sam Sandoe, Mare Trevathan, Zach Stolz, Austin Terrell, Sean Scrutchins, Geoffrey Kent, Spencer Althoff, Coleman Zeigen, Steven Cole Hughes, Emelie O'Hara, Jihad Milhem, Benaiah Anderson, Lindsay Kyler, Coleman Zeigen, Jesse Wardak, Paige Olson
TROILUS AND CRESSIDA, by William Shakespeare has 8 remaining performances at the Colorado Shakespeare Festival through August 6, 2016. VISIT: CSF for tickets!
And a final sequence to appreciate, from my son's wide angle photos, how spectacular it is to feel twilight stretch into night, watching theatre under the stars on a summer night in Colorado is an experience everyone should have. How the trees surrounding the theatre space are included in the lighting and set design -- just breathtaking!