For 55 million years these selenite clay and sandstone spire formations have been evolving and eroding in a magical, little known and remote location east of Colorado Springs.
Nestled just out of site, below the windy prairie, this geological treasure of a location was mined by natives over 5,000 years ago for the chromatic characteristics found in the pink, yellow and purple hues. This spot is now known as the Painted Mines, and one glimpse lets you know immediately that you're someplace special. Rich in geological and archeological history, this place is hauntingly beautiful and an incredible location for a hike… or for unique photos.
I've been wanting to visit this amazing place and do a photo session here since learning about it a few years ago.
So... when Hannah said she wanted something different, specifically something that not everyone else would have for the location of her high school senior pictures, this was one of the first locations that popped into my mind.
I was THRILLED when she said she loved the idea!
And Hannah…
Oh man... this incredible girl is a force of nature herself, a unique and extraordinary human. She's a survivor: a fiercely intelligent, talented, strong, kind, generous and beautiful young woman with an infectious laugh and grounded spirit of individualism that inspires me deeply.
Hannah's gorgeous, deep blue eyes and dark hair, beautifully moved by gentle gusts of "model hair wind," were stunning in this setting. The contrast of her striking look against this surreal geology was almost overwhelming for me as a photographer (seriously, I kept laughing when I'd look into the camera because it was all so incredible)!!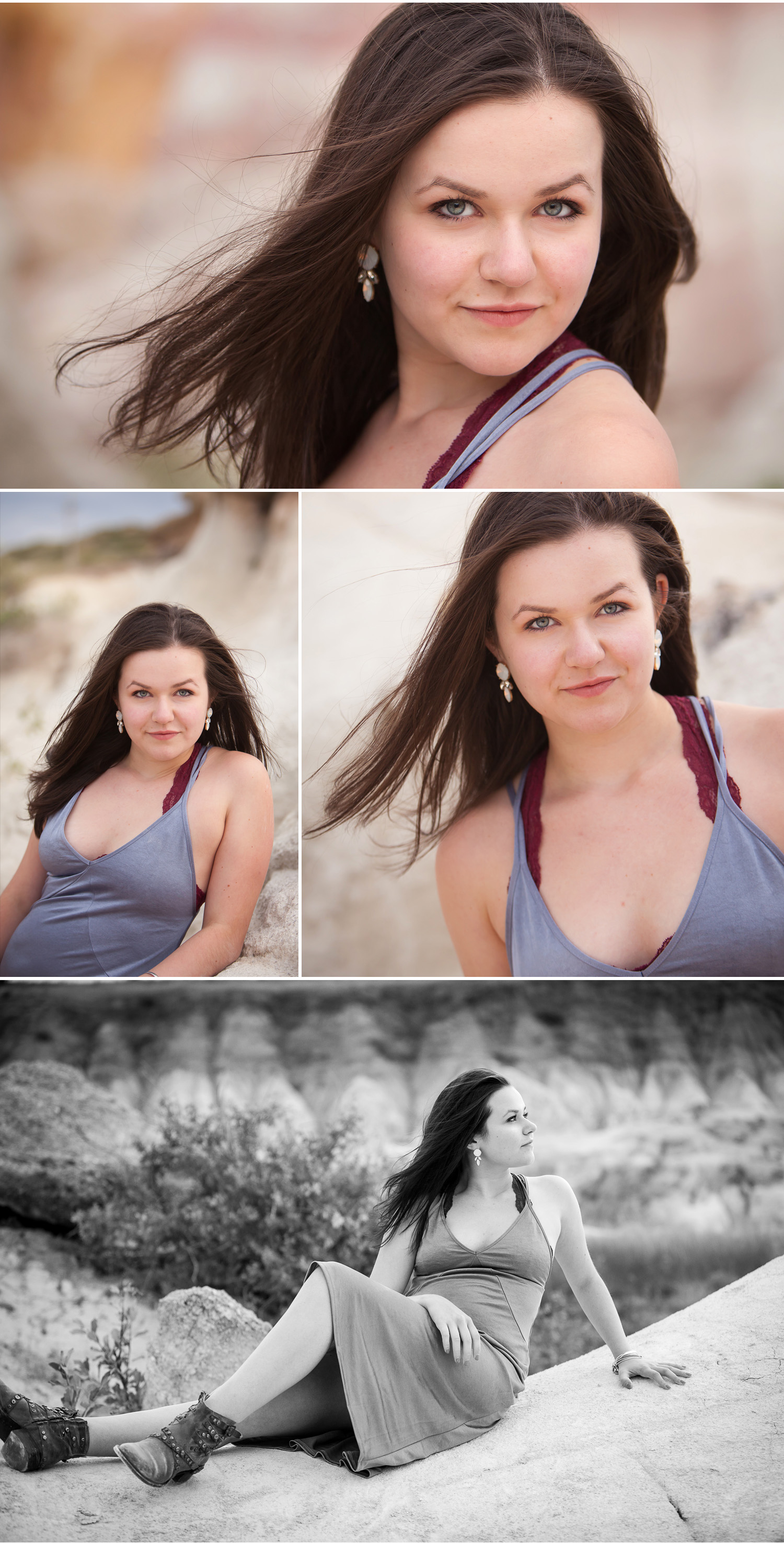 This naturally unique location was an absolute joy to explore together for this senior session. Overwhelming geological history calls out from the rich layers of undulating surfaces, leaving its mark of chalky dust if you touch the soft canyon walls. And the natural light is amazing -- bouncing everywhere with a color that is completely surreal.
Photographing for hours, we wandered happily to the sound of our laughter echoing off the canyon walls, catching glimpses of wildlife scattering by, from huge jackrabbits underfoot to soaring hawks overhead. And we breathed the scent of ancient clay dust and distant rain on the wind. It was a decidedly magical afternoon playing out there together for her photo session, well worth the extra drive.
As you can hopefully tell, it was a dream for my son and I to be out there photographing Hannah. Her session also made for an absolutely gorgeous storytelling Fine Art Album, my favorite new way to tell a story like this that families can keep forever.
And as with all of my most-incredible-senior-clients-ever, I'm crazy excited to see where this amazing young woman goes next!!
Now accepting bookings for Class of 2018 High School Senior portrait sessions. Summer and fall sessions will book up quickly, so contact me now (link above) if you'd like to set up a consultation!
ABOUT THE PHOTOGRAPHER: I'm a Denver based high school senior portrait photographer specializing in bringing out connection, personality in the eyes of my clients. I strive to do far more than just take senior pictures for yearbook, instead my focus is on storytelling with pictures. In collaboration with each client I design an immersive and empowering portrait experience, custom tailored around the personality, style and interests of each awesome senior. Let's grab a coffee and chat about designing an amazing high school senior photo shoot for you!