What can I say about this amazing young man…
Mateo is a truly unique and talented human. An extraordinarily talented actor; a kind and compassionate advocate for others, a wonderful son (I adore his parents, so I've got the inside scoop there) and an incredibly fun person to share space with. He has an intensity (which he totally brought to his actor headshot session), which is balanced by a comedic side which is quirky, different, and delightful. Can you tell I adore him?
His actor/model headshot/portrait session was a blast, located at my studio just north of downtown Denver. Our goal was to produce this set of photographs for his actor portfolio and for talent agents. I just love sessions like this that include varied styling and types of photos (headshots, full body photos) as goals.
We grabbed the opportunity of this perfectly -- and dramatically -- overcast day to explore the urban rooftop landscape above my RiNo/Globeville studio. This summer has been more full than usual of cloudy, moody days in Denver -- a fact that has not been without its logistical challenges ("to postpone or not to postpone" has been the hallmark question of this summer, amidst hail, torrential flooding and tornado warnings. Turns out, tornadoes don't make for particularly good headshot conditions). But I have to admit, the clouds have been just dreamy for portrait work, and you'll never hear me complaining about the rain, especially after 18 years living in the West!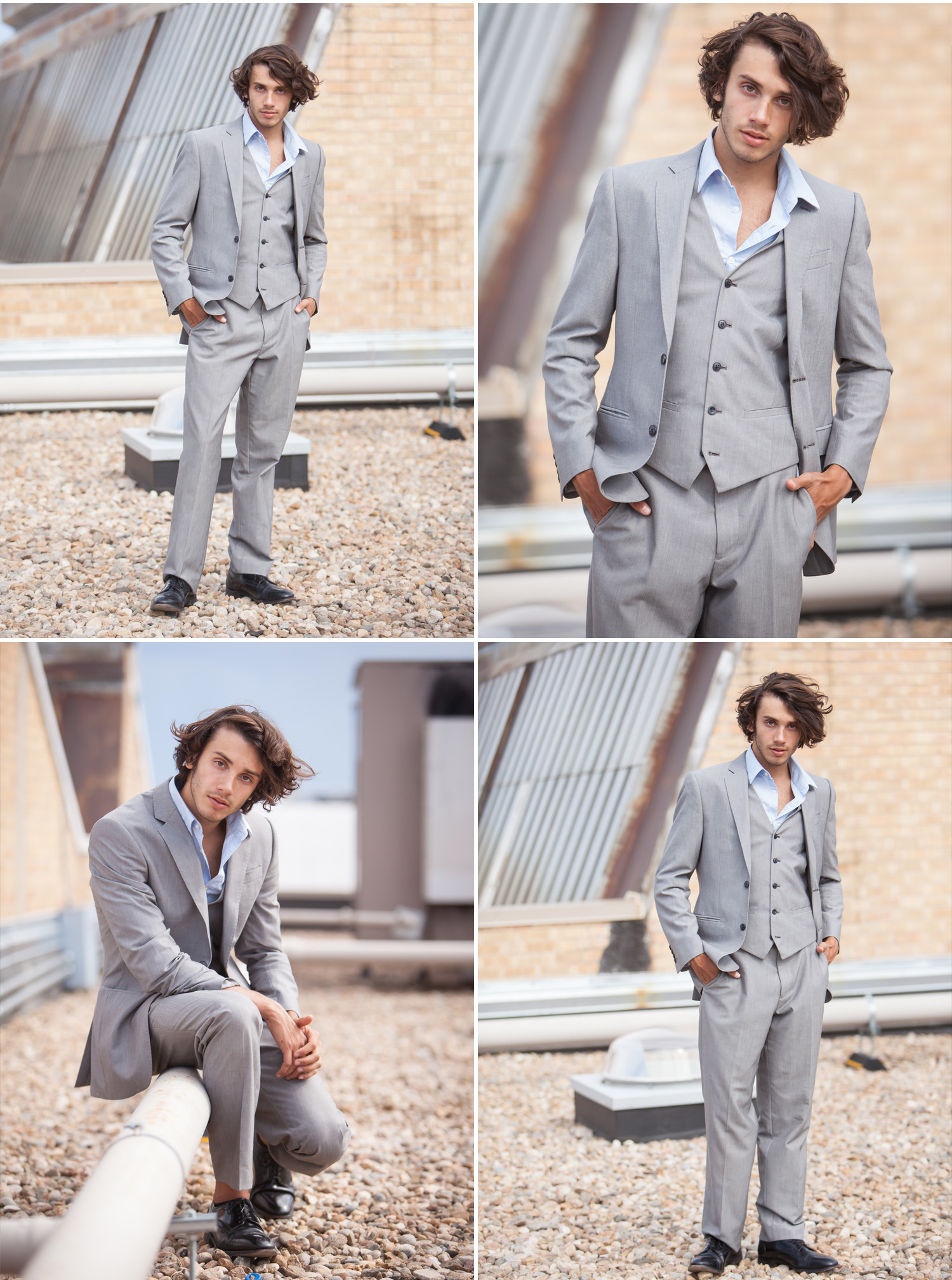 Mateo has a wonderful and unique sense of personal style -- I was definitely feeling male-fashion-inspired on this shoot. As a big fan of contrast in photos, the juxtaposition of his tailored suit with the industrial elements of a commercial rooftop landscape was a total win in my book. And combined with the drama in the sky… just awesome. Working with wind can be challenging on a photoshoot, but in this case the wind was (mostly) our friend, especially with the amazing hairstyle Mateo is sporting, offering up so many different looks in a single style -- from rugged masculine to refined and just plain handsome. I was definitely digging that stylistic range! Our session also brought us inside the studio for a few more controlled headshots, and then down to the street level. A loading dock as a backdrop, you say? Oh yes. Looks pretty great, I'd say.
I'm thrilled for this awesome young man and wish him the very best in NYC this year!!
I'm a Denver based natural light actor headshot photographer specializing in bringing out connection, personality in my clients' photos by giving them a highly customized photo session experience. I would love to chat with you about your headshot needs!